Restaurant
Wine & Dining The Orange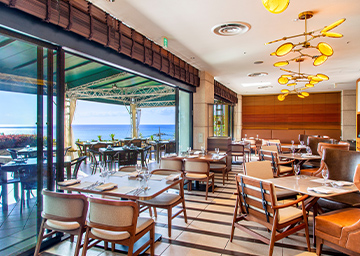 Based on a new concept of "seafood-dining restaurant" we recently renewed the main dining room of KAFUU into "The Orange", a high-protein, low-calorie seafood focused dining experience.
The menu ranges from Europe, Southeast Asia, and China using seafood from around the world.
Of course, we also provide delicious meat dishes for those who prefer.
| | |
| --- | --- |
| Breakfast | 6:30 - 10:00 (L.O. 9:30) |
| Lunch | 11:30 - 15:00 (L.O. 14:30) |
| Dinner | 18:00 - 23:00 (L.O. 22:00) |
Menu
Deli & Café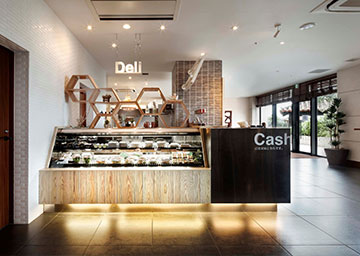 Enjoy the reborn "Health Conscious All Day" concept of an American West Coast style cuisine at "Deli & Café".
It offers a convenient menu that is committed to healthy, natural ingredients. Using organic vegetables, rye bread and a focus on local produce we create a great taste that's great for your heart and body!
Takeout is available so you can enjoy your favorite food at your favorite places, such as pool side or in your room.
In addition, tropical cocktails are also available from sunset through the night.
| | |
| --- | --- |
| Breakfast | 6:30 - 11:30 |
| Opening Hours | 11:30 - 23:00 |
Menu
Ryukyu BBQ Blue

The Top floor of the new annex building is planned to be a luxuary floor for adults guests and will offer panoramic vistas of the ocean and horizon.Positioned next to the infinity pool is our barbeque restaurant Ryukyu BBQ Blue,where guests can look out over the ocean in aresort style atmosphere while during on succulent cuts of meat.
| | |
| --- | --- |
| Breakfast | 6:30 - 10:00(L.O. 9:30) |
| Lunch | 11:30 - 15:00(L.O. 14:30) |
| Dinner | 18:00 - 23:00(L.O. 22:00) |
Menu